Carpet Stair Treads For Home Interior Décor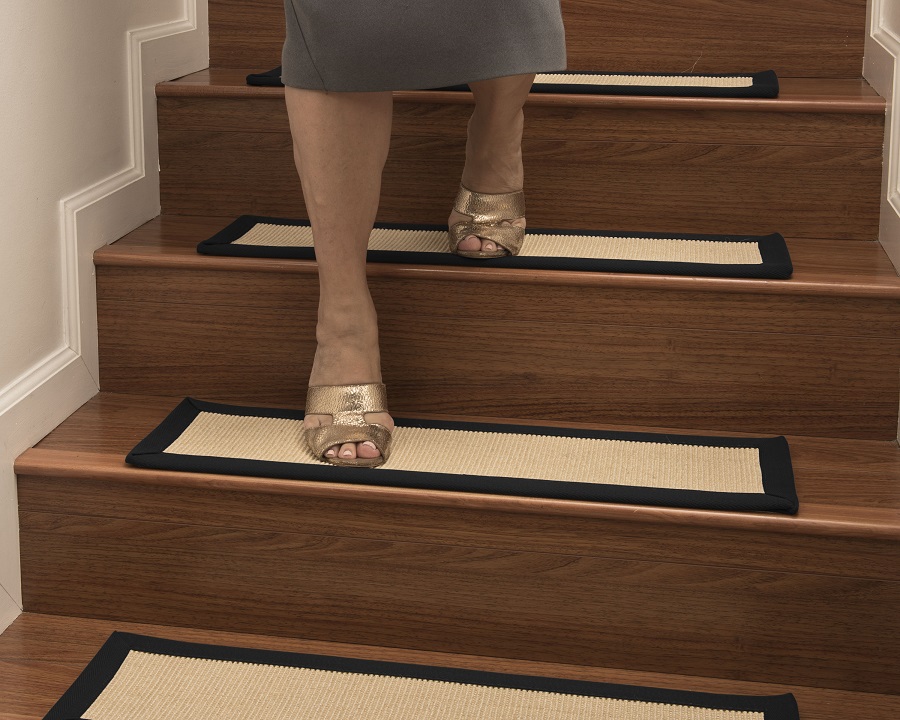 Carpet stair treads are common accessories to many staircases. Not only are there many benefits to carpet stair treads, but they are also commonly used to accentuate staircases. Unlike stair runners which run the length of the staircase, stair treads are individual pieces of carpet placed on the tops of each stair. Furthermore, they are easy to install and if rug owners decide to move, stair treads are easy to transport.
Constantly walking up and down a flight of stairs can be extremely hard on a person's joints and the stair itself. Stair treads add a layer of support giving home-owner's joints and stairs a break. Often times, staircases can be slippery but a stair tread reduces the risk of slippage by increasing traction. Stair treads can also be used to reduce noise in a house.
Natural Area Rugs offer customers ready to ship stair treads. These stair treads come in numerous different colors and sizes so customers can pick which one is right for them. As always, customers enjoy free shipping, same-day shipping, and a 30-day hassle-free return.
If a customer does not see a particular stair tread he or she likes they are free to customize their own stair tread. He or she can choose from sisal, seagrass, or wool-sisal stair treads in over 50 weaves and colors as well as 20 different color bindings. At this time we do not accept returns on customized items- all sales are finals.
Stair treads are easy to install and look great on any staircase.  Although you can get carpet stair treads professionally installed, many rug owners opt to install the treads themselves. Before starting the installation it is important that all old flooring is removed and stairs are finished. If old stair treads were used make sure the adhesive from the old treads are removed. Simply use hot water and sand down the adhesive. If the adhesive is particularly hard to remove a chemical remover may be necessary. Make sure the stairs are level and if they are worn down in certain areas use a floor leveler to level them out.
Carpet stair treads tend to be low maintenance. Vacuuming your stair treads regularly will ensure that they last a while. If home-owners decide to remove stair treads they are simple to remove. Some adhesive tape may stay on the stair but will more than likely wash off easily.
Carpet stair treads not only reduce the noise in a home but provides traction to any staircase. They are removable so if home-owners move they can take carpet stair treads with them.