7 Different Types of Awnings – What Will You Choose?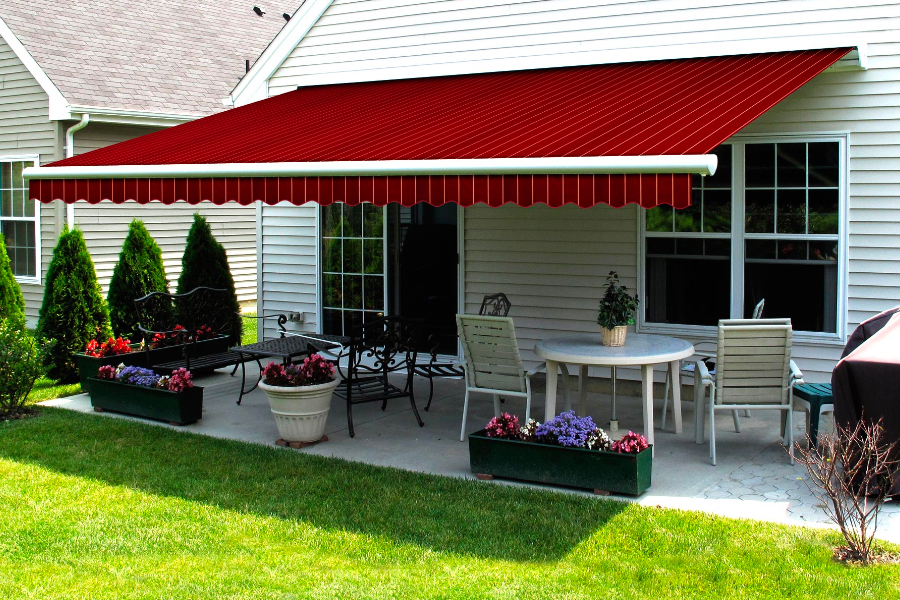 If you have decided to install awnings yet are struggling to choose, you have come to the right place. There are so many options out there now that it can be understandably frustrating to know what is right. So here, we will be looking at some key pointers, along with seven different types of awnings.
These seven awnings have varying characteristics and some similarities. What is right for someone else, may not be right for you. Take your time to get to know them, understand them, and then make a list of your needs. Once you have done this, you can then refer back to the list. From there, shortlist your preferences. You can then gradually narrow it down to one.
Without further ado, let us get started.
What is an awning?
Simply put, an awning is a covering or an overhang, typically fitted to the exterior of a building. It functions as a roof of sorts, and is made out of canvas and various fabrics. Whilst they are undoubtedly highly functional, today they are incredibly stylish as well.
What type of awnings are best?
This question is best answered with a look at seven different types of awnings, so you can decide for yourself. It is worth noting that some, such as window awnings, serve a different purpose entirely so cannot really be compared with the rest.
This is hand-crafted German precision at its absolute best. Not only does it add instant value to your home, you also get exceptional protection from the sun. This is so very important for staying safe from the heat of those famous Aussie Summers.
This awning will fit comfortably over any patio, balcony, verandah, or even anywhere in your yard. Retractable, with superior design and technology including a low-noise LongLife arm that controls the fabric, you have everything.
This is another product of German design, giving your protection from the elements with the simple press of a button.
Wind-resistant, this ones great for homes that typically see gusty conditions during the year. The modern slim design is also aesthetically pleasing, ensuring it blends in with any type of home. The bonus? It is a self-mounted system! That means you do not need any existing structures to erect it.
Streamlined design with smooth operation makes this a highly favoured contender amongst many. Integrated LED lighting also makes it pretty at nighttime.
Whether for residential or commercial purposes, this one is a keeper. Italian designed, it comes complete with an integrated gutter. Additionally, it also has a downpipe system.Both are set within the mounting frame and so are hidden away. This means the awning can effortlessly drain water away. Best of all, it has high wind resistance (up to 120 kmph) and can be installed without DA approval.
You can choose from a range of colours to suit your home, along with fabrics that are 100% waterproof. It also looks different than your traditional awning, resembling more of a roof; hence its name. The retractable feature is the cherry on top.
This is another one that looks less like an awning and more like a roof. So it is great if you want the best of both worlds. The strong aluminium tracks it runs on makes it not only durable, but also low-maintenance.
It can be mounted over several different spaces, but most notable is also self-mounted on posts. You therefore do not need an existing structure for this. The design and finished result will make it look like a natural part of your home too.
The first thing that stands out about these awnings is that they are not the traditional kind. In that they do not function as a roof covering. They look more like outdoor blinds, so are a great alternative if traditional awnings are not what you prefer.
The side channels of Zipscreens keeps the fabric taut and holds it in place, so it always looks sleek. Available in a wide variety of colours and fabrics, you can take your pick for the best fit. Additionally, they not only protect your spaces from the sun and rain, they also keep insects away.
Much like their name suggests, window awnings are meant to function as coverings specifically above your window. They are not suitable for shading larger areas such as patios and verandahs for instance. However, window awnings are excellent for cooling rooms that are sun-facing in areas that have no room for a typical awning.
When it comes to awnings for windows, there are many different types to choose from. This includes automatic, fixed-guide, wire-guide, straight drop and pivot arm. Each of these comes with its own benefis, so you can easily find something that is right for you.
The significant feature of these awnings is their spring-loaded folding arms. These are what the awning uses to extend and retract. This allows you to pull back the awning when you want sunshine to flood in. They also have a high tension force so the fabric doesn't sag or ripple.
For a little something extra, you can choose to add a valance to the front of the awning. This allows you to extend another layer of fabric in front and downwards. This can help with treacherously hot days. You can also incorporate a sun/ wind sensor system for an awning that is state-of-the-art. Finally, the casing conceals all mechanisms for a seamless look.
Are awnings a good idea?
The above should have given you some idea of what awnings can do. Considering they offer protection from the weather while creating a whole new space, yes they are. Plus, they add value to your home. All this for far less than what a new roof would cost you.
Even better, you can change up the fabric when you feel like a new style or design. That way, you get to update the look as and when needed.
Do people still use awnings?
100%. Not just for commercial purposes either. They have become incredibly popular for residential use. It is easy to see why, as they help with outdoor entertaining and relaxing with minimal hassle.
Are awnings old-fashioned?
Absolutely not. Today there is a great range of not only types and styles, but also designs, fabrics and colours. Hence, they are very much a mainstay. Thanks to advances in technology, they are well ahead of their time and suit our modern-day needs. So you can easily find something that suits your unique home, in the aesthetic preference you are after.
Getting your awnings at Bunnings and opting for something bespoke are two very different things. By choosing to customise your awnings, you can pick the right fabrics, type, and fit your awnings even in tricky spaces. The ready-made solution can be convenient, however it is not always the best. Also be sure to remember that awnings for cars and awnings for caravans have different requirements to outdoor awnings for a home.
On that note, it is advisable to seek the advice of an expert. There are many factors to consider, especially when it comes to weather. Get as much professional insight as you can, then start making your decisions.