Here's Why You Should Personalise Your Living Room Wallpaper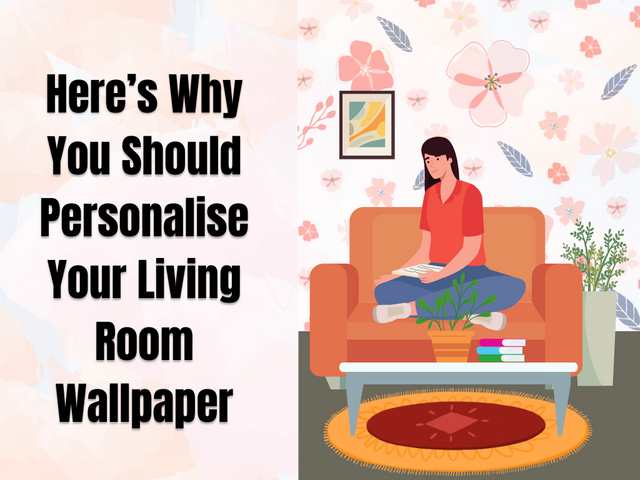 Houses are one of the most enjoyable things to customise. As soon as you begin looking for inspirations in spaces you have been to or online platforms like Instagram, Pinterest, or YouTube, you will feel excited as you pinpoint elements you want to see in your abode. Seeing it come to life can even make you feel exhilarated—so much that you will forget your concerns about your contractor or the wallpaper installation services you got in Singapore. But what makes humans adore personalisation?
Thanks to modern innovations, we now have countless options to choose from, whether we are ordering food, buying clothes, or designing our homes. These pre-made choices allowed us to satisfy our needs and wants without going through the challenging process of creating them ourselves to suit our tastes and adhere to our standards. However, having the ability to personalise things still appeals to many since it allows people to get the exact product, service, or experience they want. Customising items, especially those for your home, like living room wallpaper, can also help you avoid feeling overwhelmed with the number of choices available. You will no longer spend a long time weighing your options since you can pick one that matches your needs and preferences.
Today's modern advances allow decorators and builders to let homeowners like you customise their dwellings as much as they want. You can now alter your furniture's materials and opt for something sturdier and more comfortable but still suits your interior design concept. You can also change the colour, shape, and size of your fixtures, fittings, and other home-improving elements to make your dwelling look more visually appealing. Believe it or not, you can even personalise your home wallpaper—especially if you do not find pre-made ones suitable for your aesthetic.
4 Reasons ForPersonalising Your Living Room Wallpaper
Customising a bedroom, study, or living room wallpaper is not as challenging as it seems, especially now that countless machines help manufacturers achieve everything that their clients want in a wallpaper. You can hire someone to make a design that matches your vision, ask a shop to turn your or another artist's work into wall decor stickers or let your chosen supplier create the wall sticker design for your bedroom, kitchen, or bathroom.
But despite the perks of getting a customised wallpaper, many householders are still unsure about buying these wall decors, let alone purchasing one that matches their preferences. To help you see the beauty of having a customised design element at home, here are the four reasons you should personalise your wallpaper, especially in your living room:
1.  Custom Wallpapers Highlight Your Creativity
Many householders purchase preset wall decor stickers to showcase their abilities to combine various elements to form a cohesive and visually-stunning abode. These pre-made wall decorations also allow them to mix colours, prints, and patterns to let them explore their imagination and unleash their ingenuity. They can even flaunt their talent to guests whenever they come over for dinner or get-togethers.
If you decide to personalise your living room wallpaper, you can be as creative as you want. You can make a colour palette that matches your taste, draw ornate patterns or eye-catching illustrations, and even choose from a wide range of textures that would make your walls the centre of attention. Additionally, custom wallpapers can bring out talents you never knew you had. You may even gain a newfound hobby or profession from creating a living room wallpaper that suits someone's specific preferences.
2.  Custom Wallpapers Can Tie Your Space Together
Many homeowners decorate their dwellings by choosing a paint colour and working their way around it. Meanwhile, others purchase eye-catching furniture pieces before picking a wall sticker design for their bedroom or living room. There is no right way to design your abode, but choosing one method over the other can affect your project's outcome.
After finding a sofa, armchair, coffee table, or even a rug with a specific design, you can make your living room look cohesive and aesthetically pleasing by getting customisedwallpaper services in Singapore. You can make your walls match or complement your chosen furniture piece and create a space that blends harmoniously.
3.  Custom Wallpapers Are Painless To Install
Numerous householders dislike living room wallpaper rolls since they think these design elements are troublesome to install. They believe that paint is easier to put on and take off since it has been the most prevalent option in the city-state. Many are still unfamiliar with wallpapers, making them unaware of the benefits and process of using, maintaining, and taking them off.
But contrary to popular belief, wallpaper is not demanding to install. You may need specific tools and knowledge to put it over your walls, but they are surprisingly easy to set up once you have understood its exact installation steps. If placing these wall decor stickers on your space seems too much, you can hire a professional and get their wallpaper installation services in Singapore.
4.  Custom Wallpapers Last Longer Than Paint
Many homeowners believe that paint lasts longer than living room wallpaper since the latter is a long and wide sticker—which is notoriously easy to peel off. But believe it or not, a living room wallpaper can last up to 15 years. Thanks to their enduring build, these wall stickers can remain in your lounge or living space three times longer than a paint's lifespan.
If you plan to personalise your wallpaper, you can ask the supplier to give you a roll of their wall stickers with the most durable finish. You can also ask them for a few maintenance tips to help you look after your custom wallpapers, prolong their lifespan, and keep them from experiencing damage that would affect their appearance and quality.
Get Customised Living Room Wallpaper Today!

Decorating your home is arguably one of the most fulfilling activities you can do in a lifetime. Coming up with a vision of what you want your space to look like and seeing that concept come to life can bring you immeasurable joy—especially if you personalise your living room wallpaper.
Get customized living room wallpaper today at Frekkles! Visit their website below to learn how their expertise can help you create a visually stunning and durable wall sticker design for your space.